COVID-19 has forever changed how we buy groceries, research products and conduct business. Even as life starts to transition back into familiar territory, changes made during the pandemic can be credited to where self service is today.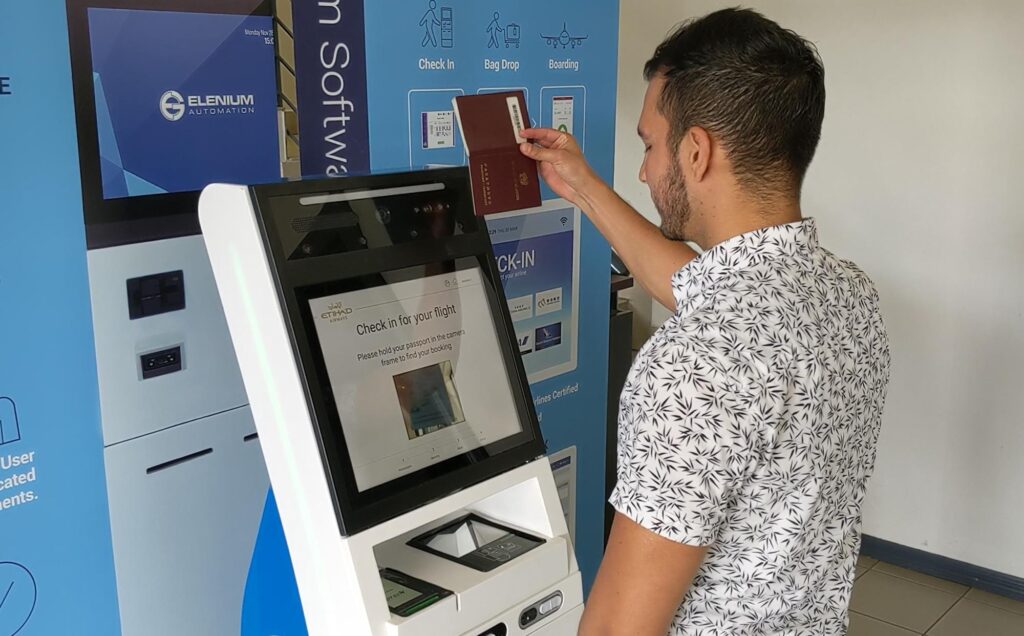 Contactless is now the 'new normal' in self serviceImage courtesy of iStock.
March 28, 2022 | by Katie Kochelek — Marketing Specialist, Frank Mayer and Associates, Inc.
Within the last few years, the buying experience has undergone a season of change. As consumer needs have evolved, the ways in which businesses respond to those needs have had to evolve as well.
With the return of shopping at brick-and-mortar locations, customers' new normal has pushed businesses to speed up their transitions into the omnichannel market to better bridge the gap between online and in-store experiences.
Self service has made its way into the spotlight, and it's not going anywhere. But what can be attributed to the rise of self service recently? Below, we detail reasons behind what prompted it and why the technology is here to stay.
The pandemic strikes
Self service advancements that had been on a slow and steady upwards trajectory before the pandemic were suddenly and unceremoniously rolled out, as businesses were forced to quickly adapt to survive during the crisis.
As the virus spread, customers were reluctant to visit stores and engage in close contact with others. Self sufficiency became a way of life, with consumers and patrons familiarizing themselves with programs like BOPIS as well as self-service automation like self checkout, ordering kiosks, smart lockers and more.
Now, as the pandemic is nearing the endemic stage, and people are back to brick-and-mortar stores, the reliance on contactless shopping has morphed into the new normal. Our society has emerged with a larger group of shoppers already educated on how to use the technology, and many have found it too convenient to revert to old habits.
COVID-19 has forever changed how we buy groceries, research products and conduct business. Even as life starts to transition back into familiar territory, many changes that were made during the pandemic can be credited to where self-service is today.
Labor shortages abound
The pandemic not only shifted the customer mindset, but it also prompted the rise of self service for businesses.
As companies began to reopen, they encountered a new crisis: lack of manpower. The pandemic had led 47 million workers to leave their positions. And for various reasons, they have been hesitant to return.
This labor shortage not only creates a gap for business owners, but it also generates additional issues — like maintaining a positive customer experience. Fewer employees means less workers to provide customer service, man checkouts and more.
Enter automation. With more customers taking ordering and checkout in their own hands, less employees are needed for customer-facing jobs. One employee can oversee multiple self checkouts or run a register while keeping everything running at a smooth pace. Remaining workers are then free to focus on other important tasks.
But it's not just companies, or even the workers, who are benefitting from self-service technology during the labor shortage. The increased use of automation can more easily fill the gaps that might otherwise have appeared within the customer experience.
Customer expectations change
Customers have grown used to almost everything they need being at their fingertips. That means speed and efficiency are now viewed as non-negotiable expectations.
Today's self service meets consumer needs for instant gratification. And self checkouts mean that customers can be walking out of store with their items as quickly as they can scan and pay.
An added benefit to the rise of self service is the correlated increase in order size. Not only do software features like upselling and cross selling influence ticket amount, but the privacy of ordering from a kiosk also gives customers a safe space to order without fear of judgement from staff. This often equates to sizing up on meals or ordering extra sides, benefitting businesses.
We live in a world where people will continue to expect immediate satisfaction. As companies set their objectives to meet this need, we'll see self-service kiosks and similar automation play an even bigger role in the future.
The continued rise of self-serve kiosks
Looking to the future, technology will continue to develop, advancing the abilities of self service further.
Every generation of kiosk will improve on the last, and technology itself will provide this layer across all aspects of business and personal processes, filling in the gaps of inefficiencies and inconveniences.
No longer a foreign concept to the average person, the use of self-service kiosks will become much more standard, as well. With the ongoing worker shortage, companies are going to be more apt to roll out self-service options for patrons.
Eventually, self-service solutions will become so much the norm that the moniker "self service" itself and all the debate on its cost, benefits and intangibles will disappear.
With the many surprises of the last few years, the best we can do is predict. Even so, the future for self-service kiosks is bright.
Just because customers are returning to stores does not mean they want to return to the old way of shopping.
Labor shortages have thrown businesses a curveball, while customer standards have remained higher than ever. The pandemic has forever altered consumer expectations as well as companies' means of achieving them.