A recent consumer survey on self-checkout found most consumers are using it over cashiers, but have some concerns that retailers can address.
The state of self-service checkouts — 6 takeawaysImage provided by iStock.
March 14, 2022 | by Bobby Marhamat — CEO, Raydiant
More and more customers are using self-service checkout solutions. They not only see self-checkout as the fastest way to purchase their goods, but see it as the safest as well.
This is what our company found in a recent consumer survey about self checkout. We asked 1,000 American consumers to share their thoughts on self-checkout experiences, from how frequently they use self-service checkout kiosks to what might stop them from checking out on their own.
Though consumers provided an abundance of useful insights, six key takeaways from our report stood out as useful for business experience managers.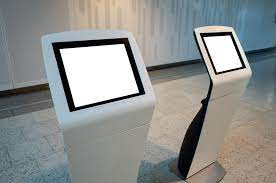 Self-checkout will continue to climb
Consumers took the safe road in virtually all respects in response to the COVID-19 pandemic. From donning masks to utilizing curbside pickup and distancing in lines, you saw firsthand how serious the typical shopper is about their health.
Our findings indicate that consumers see self-checkout as the safest way to purchase items in a physical business setting. Nearly 40% (36.3%) of surveyed shoppers had a "major increase" in their use of self-checkout options since 2020. Another 23.5% reported a less drastic increase, but an uptick no less.
Shoppers anticipate using self-checkout options even more frequently in the future. More than a third (34.1%) plan to increase their frequency of self-checkout usage in a "major" way. Another 18.7% expect an incremental increase in their self-checkout habits.
You may want to ask yourself how important convenience and safety are to the shopper of today, and whether your business is serving those shoppers by providing self-checkout options.
Self-service checkout has failed some in the past
Like any product with great potential, self-checkout solutions are not uniformly effective. Customers do not forget their experiences with broken or slow self-checkout kiosks, and avoiding these negative interactions is paramount for any business manager.
A 67.3% majority of respondents said that they've encountered a self-checkout kiosk that simply didn't work. Others reported experiences with self-checkout kiosks that were too slow for them to find value in the experience.
A self-checkout solution is not a solution if it doesn't provide what a customer seeks: convenience and speed.
Customer experience managers should do thorough research into their self-checkout solutions before purchasing them so that they may avoid such issues.
Past poor experiences lead some not to use self-checkout
Not every shopper that we surveyed was bullish on self-checkout. We wanted to know why those who avoid self-service checkout kiosks do so, especially considering the benefits self-checkout provides in terms of convenience and reducing human interactions.
The greatest reason why some shoppers have a low opinion of self-checkout kiosks is ineffectiveness. More than a quarter (25.1%) of respondents said they avoid self-checkout because of past experiences where the kiosk did not work.
Another 21.9% said that their avoidance of self-service checkout solutions stems from kiosks that are excessively slow. Speed of checkout is the reason why many shoppers choose self-checkout, and so a slow machine defeats the purpose.
Some customers' past experiences with subpar self-checkout kiosks are tough to shake. Still, those customers may change their mind as they see other customers using your self-checkout kiosks with success.
Even if some shoppers never come around, we know that most shoppers now prefer self-checkout over cashier-assisted checkout. You can't afford to ignore this influential share of your customer base.
Consumers would prefer using their own smartphone
Another reason to consider installing or expanding self-checkout options is consumers' desire to have minimal human interaction when checking out.
Some customers certainly like chatting with a cashier, but many draw the line at a perceived risk to their own health. Self-checkout solutions represent the most accessible, affordable cashier-less checkout solution available to businesses right now.
Current self-checkout kiosks may be a harbinger for phone-centric checkout solutions, which may at some point be integrated into the current class of self-service checkout kiosks.
A 63.4% majority agreed either strongly or moderately that they would most prefer to check out of a store using only their own smartphone to scan and purchase items.
The takeaway? Checkout is trending strongly in the DIY direction.
Customers worry about their health with self-checkout
Much of the migration to self-checkout from cashier-aided checkout may be attributable to health concerns. Safety has been largely synonymous with avoiding human contact, and the popularity of self-checkout kiosks reflects this ethos.
However, customers suspect that even self-checkout could be safer than it is. Specifically, they worry that self-checkout kiosks are not always clean.
A 65% majority said that they worry about the cleanliness of self-service checkout kiosks. An antimicrobial screen can mitigate 99.99% of microbial bacteria that come into contact with a screen's surface.
As a business manager, it is important to have kiosks that use an antimicrobial screen and make customers aware of it.
You may also integrate scannable QR codes into checkout solutions to engage customers in a completely contactless fashion. These QR codes can serve a variety of purposes, from unlocking in-store discounts to providing more details about a product or referring a customer to your online store.
The majority today prefer self-checkout over cashiers
Cashiers, we love you. But we have to report what we found that the majority of shoppers would rather check themselves out than rely on a cashier.
A 60% majority said that they would choose self-checkout over being rung up by a cashier, even with factors like lines being constant. This is a significant finding that shows why self-checkout options are no longer an extraneous feature of your store, but rather a requirement to remain competitive.
We now know that self-service checkout options aren't just a nice thing to have — customers demand them.
Not only will most customers choose self-checkout over cashier-assisted checkout given the option, a prospective shopper might avoid your business altogether if you don't give them the choice to self-checkout. Just shy of 50% of survey respondents said they'd choose a business with self-checkout kiosks over a comparable one that does not offer them.